Who: The UK government, the Advertising Standards Authority
Where: United Kingdom
When: 9 December 2022
Law stated as at: 5 January 2023

What happened:
The UK government is due to introduce new restrictions on the promotion and placement of high fat, salt and sugar (HFSS) foods, following a review announced in September of its legislation.

On 9 December 2022, the UK government announced a further delay to the introduction of a 9pm watershed restriction for TV and online adverts for HFSS products. This restriction was originally planned to enter into force in January 2023, before it was postponed to January 2024. It is now scheduled to come into force from 1 October 2025.
The government is currently working with regulators to establish guidance around these restrictions, ahead of October 2025. This includes a consultation, which is open until 31 March 2023. As part of this consultation, views are being sought around defining the:
products in scope of the advertising restrictions;
food and drink small and medium-sized enterprises which would be considered under the exemptions; and
services which are connected to regulated radio for the radio service exemptions.
The consultation is also seeking views on whether an exemption is required for audio-only media to cover other non-broadcast radio services that are carried online (including UK-based internet radio services).
Why this matters:
The consultation on these points may mean that there will be difficulties for businesses to ensure compliance.
Firstly, the consultation may mean that we end up with a situation where the categories of the advertising restrictions and promotional restrictions are different, or the categories for the promotional restrictions change. This would mean that businesses need to ensure that they are up to date with the various category definitions and the potentially different corresponding types of restrictions.
Secondly, the ongoing consultation and piecemeal introduction of the body of the legislation (along with the continued delays) may lead to difficulties for businesses to know when to start working on compliance, and the exact standards and scope which is caught.
In the meantime, businesses must be ready to implement measures in line with the restrictions and dates outlined in the table below. Those that may be affected by the topics proposed in the consultation, are also strongly advised to participate and make their thoughts known.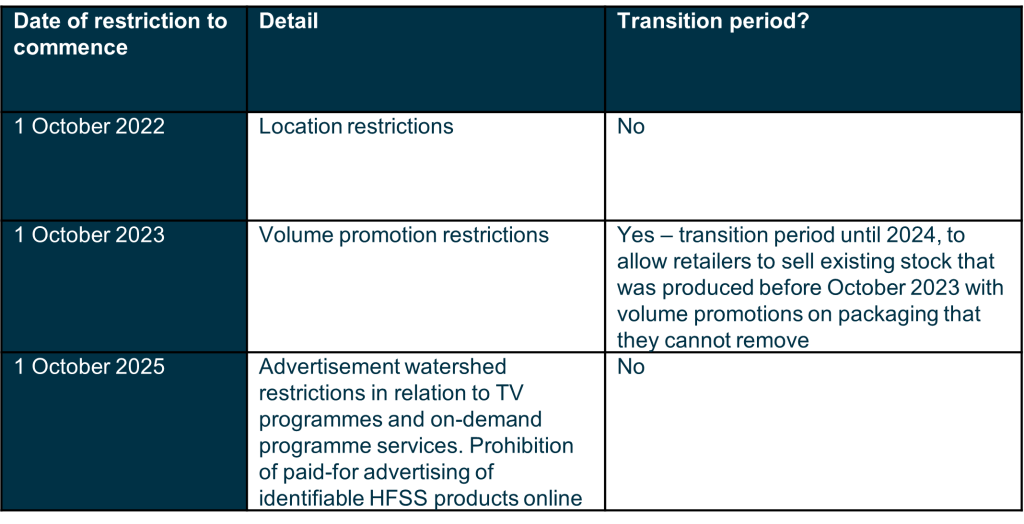 The team at Osborne Clarke is monitoring this situation. If you would like to receive our HFSS newsletter please sign up here.